Barron's Ranks ICC's CEO, Randy Garcia, as one of 2020's Top 100 Independent Financial Advisors
September 15, 2020
We are pleased to announce that Barron's has named Randy Garcia as one of 2020's Top 100 Independent Financial Advisors.
Barron's Ranks ICC's CEO and Founder, Randy Garcia, Nevada's Top Financial Advisor
March 18, 2020
We are pleased to announce that Barron's has once again named Randy Garcia as Nevada's top financial advisor, this time for 2020.
ICC Founder Randy Garcia hosts event honoring Nevada's World War II Veterans
March 9, 2020
Local Philanthropist and Independent Financial Advisor, Randy Garcia, brought the "World's Greatest Historian", author and seven-time Emmy award winner, Mr. Martin King, to speak at a private event honoring Nevada's WWII veterans.  The other guest speakers at the event were Brig. Gen. Robert Novotny, from Nellis Air Force Base; Former Brig. Gen. Gregory Ihde also from Nellis, and two-time Nevada Governor and US Senator, Richard Bryan.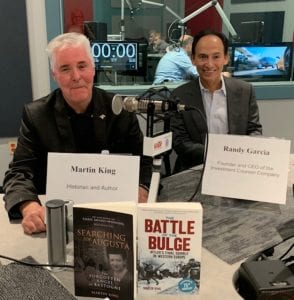 NBC Affiliate interviews Las Vegas Financial Advisor Randy Garcia on the Coronavirus and the Market
March 3, 2020
Today, Randy Garcia, ICC Founder was interviewed by the Las Vegas NBC Affiliate.  Not surprisingly, they were looking for an update on the Coronavirus and the Market.
"Buckle up and diversify" was one of Randy's recommendations.  Watch the interview here: https://news3lv.com/news/local/advice-for-local-investors-buckle-up-and-diversify.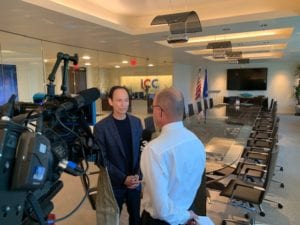 ICC Founder Randy Garcia's Beethoven Project Featured on KNPR Radio Interview
KNPR
January 31, 2020
The Investment Counsel Company (ICC) founder, Randy Garcia, was invited back to KNPR to talk about his latest philanthropic venture.  With The Beethoven project, Randy is giving back to the community by underwriting a two-year series of concerts in celebration of Beethoven's 250th Birthday.
He and UNLV College of Fine Arts Dean, Nancy Uscher, have partnered to bring the love of Beethoven to the Southern Nevada Community.  Randy, a lover of classical music for many years, wanted the community to experience Beethoven's music and celebrate the life of this wonderful composer.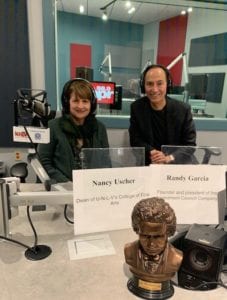 ICC Founder Randy Garcia Named Honorary Commander at Nellis Air Force Base
January 2020
Las Vegas Financial Advisor, Randy Garcia, was recently honored by the Nevada Test and Training Range, in association with Nellis Air Force Base, as an Honorary Commander.  Randy has been a long-time supporter of our nation's military and was flattered to receive this distinguished award, presented by Nellis Air Force Col. Chris Zuhlke.  To make the event special for those attending, Randy brought with him football great, Kelechi Osemele, as his guest.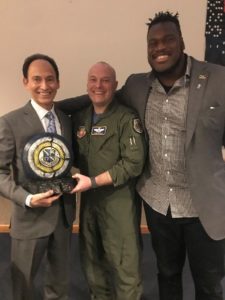 Las Vegas Financial Advisor Randy Garcia Featured for Philanthropy on KNPR Radio Interview
KNPR
December 24, 2019
A recent interview highlights Randy's contributions to the Las Vegas community.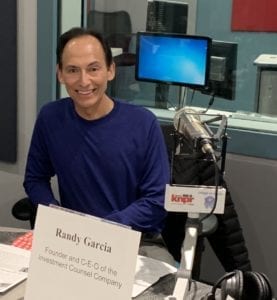 ICC Founder Randy Garcia Gives Back To The Community Through The Arts
UNLV Foundation
Nov. 21, 2019
ICC Founder, CEO and Philanthropist, Randy Garcia, gives back to the community through the Arts.  Learn more about the Beethoven 250th Project.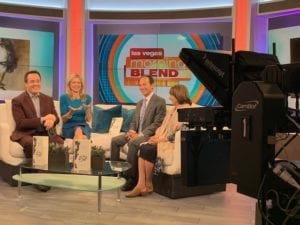 Financial Advisor Randy Garcia Adds Value to UNLV School of Medicine Community
UNLV School of Medicine "Making the Rounds"
Oct 8, 2019
The story of how UNLV School of Medicine student Arturo Montez and his family reacted when Randy Garcia visited their home — he provided Arturo's full medical school scholarship — never gets old.
Best-In-State Wealth Advisors
Forbes
Feb 14, 2019
#1 Randy Garcia, Wealth Advisor, The Investment Counsel Company
Las Vegas Advisor Randy Garcia Manages $1B -- And Clients' Organ Transplants
Forbes
Feb 15, 2018
When two of his clients needed organ transplants, Randy Garcia didn't hesitate. The Las Vegas wealth advisor heard the frustrations of each of his clients, who struggled to get the medical advice they longed for and couldn't find a hospital they trusted to perform the procedures.
Smith Center board member channels love of philanthropy, music
Las Vegas Review-Journal
January 30, 2018
Randy Garcia loves music. So much so that he's been taking piano lessons — currently via Skype with a professor from Yale — for 40 years. So much so that he considers as a special talent his knowledge not just of classical music (his favorite genre) but just about any genre of music from the '40s to the '70s. So much so that he's a member of the board of directors of The Smith Center for the Performing Arts.
Rich Advice
Barron's
March 4, 2017
Randy Garcia, CEO of The Investment Counsel Co., will take a stand, even when it bucks conventional wisdom or clients' preconceived notions. "We're willing to challenge clients to make the best-informed decisions," he says.
Randy Garcia Named Lee Business School Alumnus of the Year
UNLV
May 18, 2016
For more than 40 years, the UNLV Alumni Association has recognized exceptional individuals who represent the ideals of higher learning and Rebel Pride during the annual Alumnus of the Year Awards. With numerous professional and personal accolades earned over the course of a distinguished career and via public service and community involvement, Randy Garcia truly embodies the Rebel way.
Financial Advisors: Profiles of 51 State Champs
Barron's
March 5, 2016
When Randy Garcia took up archery eight years ago, he decided to seek out the best possible instructor he could find—and he ended up with a coach from the U.S. Olympic team. He aims to provide the same sort of world-class guidance to his clients.